At one of the shows I was attending this spring I was fortunate enough to stop by the booth of the BCSIR/BCTF folks and something caught my eye.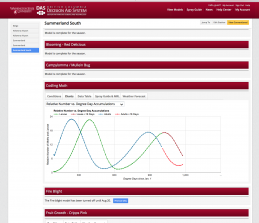 They were promoting their cloud based, computer weather modelling program – the B.C. Decision Aid System (BC DAS), and it sounds like a great program.
The program combines weather information from stations throughout the province with information from researchers on insects and diseases and also includes information for things like bloom timing and peak pollinator timing. It uses the computer models to create forecasting projections to help growers create an efficient integrated pest management (IPM) plan
This kind of information can alter many parts of a growers farming plan, from bloom thinning to burn protection to nutrition to spray timing and intensity. having good information will help growers do only what they need and prevent waste.
The best part of the story – its free! the cost of this program is being covered and registration is available to BC growers today.
The BC program was adapted from a program developed by Washington State University, and is funded by SIR, Growing Forward 2, ARDCORP, BC Climate Action Initiative and the Province of BC.
Check it out at https://ca.decisionaid.systems/